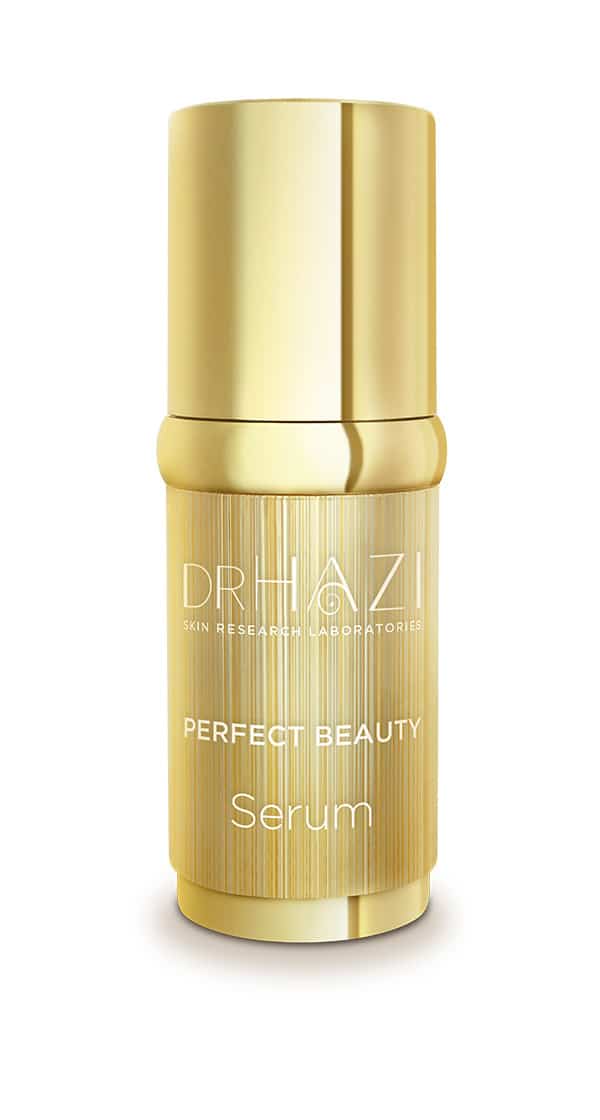 Hightech 39%
Natural 100%
×
Our cosmetics and skin care products are 100% natural, healthy and exceptional quality. Instead, we use valuable natural raw materials with excellent bioavailability. Therefore, our products are suitable for all skin types and are suitable by their pure natural ingredients also for vegetarians and vegans.
Through the selected DRHAZI Natural process® our products are manufactured particularly friendly and sustainable. Unlike manufactured at Industriel cosmetics and toiletries, this may mean that there are some changes in color, smell or consistency of the products. This is a natural process through the use of natural ingredients - opened products should be consumed about three months after opening.

Sustainability, also in product design:
Through our low-oxygen filling and a carefully selected package of conservation effort is kept very low. All contents are filled into pre-sterilized container quality and, thus are DRHAZI products free from germs, chemicals and synthetic preservatives. The "airless system", that is, the separation of packaged goods and ambient air, also ensures a germ-free and oxygen-protected storage - prior to first use it is necessary to pump the care product.
Storage & shelf life:
To ensure the consistency of natural products as well as a good application use, cosmetics and toiletries DRHAZI from excessively high temperatures or cold should be protected. Optimal storage is ensured at a temperature of 15-20 degrees.
Further information:
Inform yourself about the effect instance and preservation of produce, as well as the synthetic active ingredients and toxins in conventional cosmetics here.
DRHAZI BLOG
Ingredients:
Organic Rose flower water
Ceramid complex
Liposome Complex
Vitamin E
Vitamin C water soluble
Beta glucan
Ferulic acid
Allantoin
Rose oil
Rosewood oil
Organic Palmarosa oil
Organic Totarol
Gold Crystal
Silver Crystal
Platinum Crystal
Iridium Crystal
Silica Crystal
Allantoin (Comfrey Root) is a natural ingredient found in a wide variety of cosmetic products. It is an extract from the comfrey plant. This ingredient is widely known for its hydrating abilities and exfoliating properties. It is known to be an anti-irritant and even to protect and promote healing.
Derived from oats, strengthens the extra cellular matrix. Promotes the extension of hydration, increases cellular immunity to prevent negative reactionary mechanisms that promote irritation.
Vegetable-derived lipid concentrate shown to alter protective barrier function of the skin and scalp protection. Consists of a multi-lamellar system with ceramides, cholesterol, free fatty acids & phytosphingosine that resembles the structure of the lipid barrier the skin. Shown to incorporate ceramides (skin-identical lipids) into skin and can thereby restore barrier function of skin. Deeply moisturizes skin and increases bioavailability of ceramide VI by more than 38 %.
Ferulic acid (FA) is found in the leaves and seeds of most plants, and in especially high concentration in the brans of grasses such as rice, wheat and oats. It has strong antioxidant properties that make it especially useful in the formulation of anti-aging cosmetics.
Gold crystal - The solution of colloidal nano gold has a ruby red tone. For thousands of years, gold has been the embodiment of precious metals. Regardless of its symbolic significance, it has become the favorite substance of scientists due to the unique traits of the nano-sized material. Its great significance lies in the fact that the nano-sized particles of gold are capable of attaching themselves to various types of cells depending on their circle, star, hexagonal, etc. shape, whilst the shape can be determined through the sequence of amino acids coded in a DNA chain attached to them, which have an intensive effect when combined with nanopeptides. They can make the skin radiant, tight and filled with the life. 

 Colloidal gold mustn't be mistaken with ionized gold. Ionized gold is a gold salt, most commonly a gold chloride solution in water. This is easily distinguished, as it has a color similar to water and is highly detrimental to health. Ionized gold is neurotoxic and harmful to the nerve cells, causing peripheral neuropathy.

Iridium supports improved cellular metabolism. It can be assumed that it boosts electric transmissions through the synapses in the brain. It improves memory, boosts mental awareness and facilitates the general regeneration of neurological tissues.
It is a semi-solid liposome gel which can be loaded by a simple action with drugs. The liposomes are multi-lamellar and have a particle size of approximately 200 nm. It provides for an excellent transport system for active substances is, on the other it merges after release of the drug with the skin lipids and thus reintegrated into the skin's metabolism.
Balances hydration levels and moisturizes the skin, helping to prevent wrinkles. Keeps skin elastic and supple by stimulating cell regeneration and rejuvenation. Also balances production of sebum while aiding with broken veins, acne, dermatitis and prevents scar formation.
Rose petals picked for distillation are picked manually, day by day, at or just before sunrise. Rose petals have sedative, antiseptic, anti-parasitic, anti-inflammatory, laxative, cholesterol-lowering and heart-supportive properties.
Provides preservative actions while acting as a gentle and non-irritating anti-bacterial ingredient in both gram positive and negative bacteria (proprionumbacterium acne is particularly sensitive to this extract), anti-viral, antioxidant, effectively reduces acne disturbances. 

The solution of colloidal nano platinum has a silvery tone, supporting DNA regeneration and the rejuvenation of facial skin.

An essential oil that heals and prevents viral infections, it is excellent for damaged skin of any skin type. The water binding capacity rose improve skin hydration. Regeneration and skin elasticity
Rosewood oil is a superior cell stimulant and tissue generator, causing rejuvenation of the skin.
Silica crystal – Colloidal silicon plays a fundamental role in skin metabolism, boosting collagen and elastin production, reducing the appearance of wrinkles, rejuvenating and fortifying connective tissue integrity.

The solution of colloidal nano silver has a dark eggplant tone and is highly suitable for the cellular-level cleansing of the skin and normalizing microorganisms. 

Water soluble and stable Vitamin C, antioxidant, strengthens collagen, assists in brightening, provide's anti-wrinkle effects / smoothes skin texture, heals wounds, and prevents scarring. 17%
Because of its ability to quench free radicals the term "protector" has been used to describe the actions of vitamin E. Studies have shown that vitamin E reduces UV-induced erythema, edema, sunburn cell formation, and lipid peroxidation. Clinical improvement in the visible signs of skin aging has been documented with significant decrease in skin wrinkling. This may be also due to the excellent moisturizing effect of vitamin E.
Quality
Truly natural and/or organic cosmetics, meet ECOCERT Organic and Nature of requirements.
We use solvent and pollution-free, cold-pressed vegetable oils
Free from synthetic fragrances,

colors

and preservatives
Free from mineral oils, parabens, silicone and PEG's

Dermatologically tested for

compatibility

Recovered

raw materials

,

whenever possible

from

controlled-

organic farming

and

under fair conditions
Write a review on this product!
hightech natural skin therapy
Made with certified ingredients
Buy the full care line, with our Gift!
The effect of the natural cosmetics built on each other in the care steps.
which belongs to the following care line
The product has no reviews.
Reviews about the product
The product has no reviews.
×
Write a review on this product!
Thank you for helping us with our work
Dr. Házi Edina
Perfect Beauty Serum