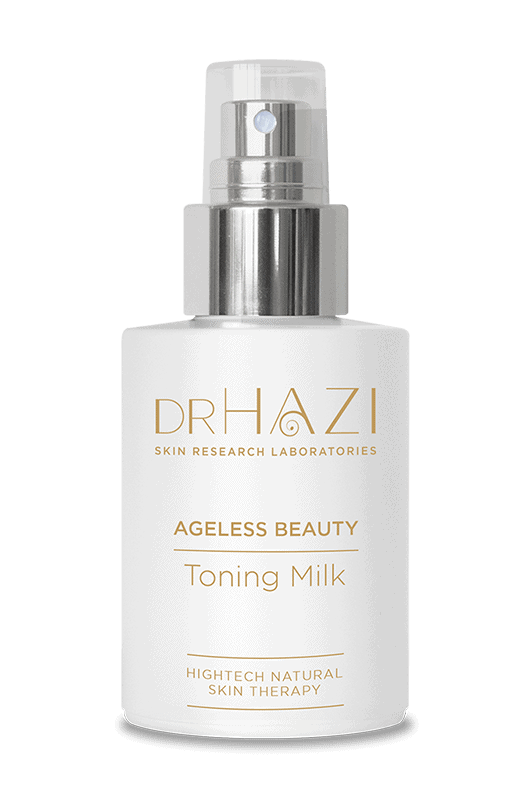 ×
Our cosmetics and skin care products are 100% natural, healthy and exceptional quality. Instead, we use valuable natural raw materials with excellent bioavailability. Therefore, our products are suitable for all skin types and are suitable by their pure natural ingredients also for vegetarians and vegans.
Through the selected DRHAZI Natural process® our products are manufactured particularly friendly and sustainable. Unlike manufactured at Industriel cosmetics and toiletries, this may mean that there are some changes in color, smell or consistency of the products. This is a natural process through the use of natural ingredients - opened products should be consumed about three months after opening.

Sustainability, also in product design:
Through our low-oxygen filling and a carefully selected package of conservation effort is kept very low. All contents are filled into pre-sterilized container quality and, thus are DRHAZI products free from germs, chemicals and synthetic preservatives. The "airless system", that is, the separation of packaged goods and ambient air, also ensures a germ-free and oxygen-protected storage - prior to first use it is necessary to pump the care product.
Storage & shelf life:
To ensure the consistency of natural products as well as a good application use, cosmetics and toiletries DRHAZI from excessively high temperatures or cold should be protected. Optimal storage is ensured at a temperature of 15-20 degrees.
Further information:
Inform yourself about the effect instance and preservation of produce, as well as the synthetic active ingredients and toxins in conventional cosmetics here.
DRHAZI BLOG
Ingredients:
Organic Rose flower water
Urea
Sorbit
Hyaluronic acid
Lactic acid
Organic Green tea leaf extract
Gotu kola extract
Saffron extract
Collagen protein
Vitamin C water soluble
Rosewood oil
Organic Palmarosa oil
Patchouli oil
Organic Totarol
Lecithin
geraniol
farnesol
hydroxicitronellal
Collagen is an important protein which is part of the connective tissue and is the cement that holds everything together-the primary mortar between the bricks of all of our smooth muscle tissues such as blood vessels, digestive tract, heart, gallbladder, kidneys and bladder, to mention just a few. Using face creams with Collagen will increase moisture contents of the skin and will stimulate skin cells to produce collagen and can partly reverse aging process. Stimulating collagen synthesis in aged skin was shown to reduce wrinkles and improve skin texture.
They are naturally occurring components of organic essential oils. They cannot be separated from the essential oils, and are not added to the formula separately.
They are naturally occurring components of organic essential oils. They cannot be separated from the essential oils, and are not added to the formula separately.
Antioxidant, improves collagen content, renews collagen related to weakened connective tissues, prevents scar tissue formation by slowing down excessive collagen production at wound sites, stimulates circulation and the oxygenation of skin tissues.
The HA biotechnical ( fermentation ) is produced from glucose, soy peptone and yeast extract. Significant contribution to the hydration of the skin, the skin is nice. Molecular Weight distinction is made between macro, micro and medium hyaluronic acid. When used in combination, support and enhance each other's effects. Macro (800-1200 kDa) - the most commonly used hyaluronic acid. The top layer of skin can easily attract the molecules of water to hydrate the collagen and elastin fibers. According to the weight of 500 times the amount of water can absorb . Medium ( < 50 kDa) - penetrates the skin deeper layer, where the special effects of protecting the skin from harmful UV rays. Due to the strong UV radiation is a damaging free radicals in the skin ( hydrogen peroxide ). The medium of hyaluronic acid in the skin increases the level of catalase , hydrogen peroxide into water and this is converted to the acid . Besides the suppression of inflammatory agents in the skin. Micro ( <5000 Da ) - the deepest layer of the skin to get to where it is important to select the signal peptides stimulate stem cells. These signal peptides help rebuild the tissue structures . At the same time enhance their own production of hyaluronic acid in the tissue so that the skin becomes tight and permanently flexible. In addition, inhibits the activity of tissue -degrading enzymes ( Matrix Metallo Proteinase ) , such as collagen and elastin to extend the life cycle
They are naturally occurring components of organic essential oils. They cannot be separated from the essential oils, and are not added to the formula separately.
It is most widely used in cosmetics for its ability to help the skin absorb the cosmetics and moisturizers better. It is also widely used for its ability to accelerate the skins natural shedding process as an Alpha hydroxyl acid. In doing this it promotes the healthiest skin making your skins appearance brighter and younger looking.
Lecithin is widely used in cosmetics to help reduce dryness in the skin and the appearance of flaking. It is also used for its ability to fight free radicals.
Green Tea extract contains a unique cocktail of powerful antioxidants called catechins, which help fight damage caused by free radicals. Its anti-inflammatory properties in some cases can even neutralize the damage done by exposure sun. Moreover, green tea extract has qualities that can rejuvenate old skin cells, promote skin regeneration, and even wound healing. It's known for treating skin problems including treatment of aphthous ulcers, psoriasis, rosacea, and actinic keratosis.
Balances hydration levels and moisturizes the skin, helping to prevent wrinkles. Keeps skin elastic and supple by stimulating cell regeneration and rejuvenation. Also balances production of sebum while aiding with broken veins, acne, dermatitis and prevents scar formation.
Rose petals picked for distillation are picked manually, day by day, at or just before sunrise. Rose petals have sedative, antiseptic, anti-parasitic, anti-inflammatory, laxative, cholesterol-lowering and heart-supportive properties.
Provides preservative actions while acting as a gentle and non-irritating anti-bacterial ingredient in both gram positive and negative bacteria (proprionumbacterium acne is particularly sensitive to this extract), anti-viral, antioxidant, effectively reduces acne disturbances. 

It is mostly known for its properties of treating irritated, extremely dry skin; problems such as eczema, psoriasis and dermatitis. Another great effect Patchouli Oil has is anti aging properties. The vitamins found in the oil help control the natural aging of the skin, keeping it young, vibrant and healthy. This is due to one of the properties in the oil: Cytophylactic, which promotes growth of new cells by helping generation of new body cells.
Rosewood oil is a superior cell stimulant and tissue generator, causing rejuvenation of the skin.
Anti aging agent. Blood circulation-stimulating effect, updates the tissues and has positive effect on the metabolism of the tissues.
In cosmetics, sorbitol acts as a humectant and moisturizer.
Located in a part of the natural component of the epidermis (1%) of the skin where moisture becomes bound. It contributes to skin elasticity and flexibility. Urea is widely used in skincare because of its hydrating properties. It is also a great and widely used preservative in cosmetics. It has been found to prevent sun radiation from aging the skin.
Water soluble and stable Vitamin C, antioxidant, strengthens collagen, assists in brightening, provide's anti-wrinkle effects / smoothes skin texture, heals wounds, and prevents scarring. 17%
Quality
Truly natural and/or organic cosmetics, meet ECOCERT Organic and Nature of requirements.
We use solvent and pollution-free, cold-pressed vegetable oils
Free from synthetic fragrances,

colors

and preservatives
Free from mineral oils, parabens, silicone and PEG's

Dermatologically tested for

compatibility

Recovered

raw materials

,

whenever possible

from

controlled-

organic farming

and

under fair conditions
Write a review on this product!
hightech natural skin therapy
Made with certified ingredients
Rating:
7 Based on reviews
Buy the full care line, with our Gift!
The effect of the natural cosmetics built on each other in the care steps.
which belongs to the following care line
AGELESS BEAUTY SOFT SELECTION
Reviews about the product
Eve (47)
The Ageless Beauty Toning milk is my favorite. It is incredibly absorbed into my skin. It instantly and tangibly hydrates the skin. It doesn't irritate the skin when inflamed. It has a pleasant fragrance.
Annie (45)
From the range of products I have used so far, the Ageless Beauty Toning Milk and Vitality Oleogel are my favorites. They hydrate my facial skin for the whole day, without ever feeling like it's dry or exhausted. The tonings have worked out great for me and if possible, I use them during the day to refresh my facial skin.
×
Write a review on this product!
AGELESS BEAUTY TONING MILK