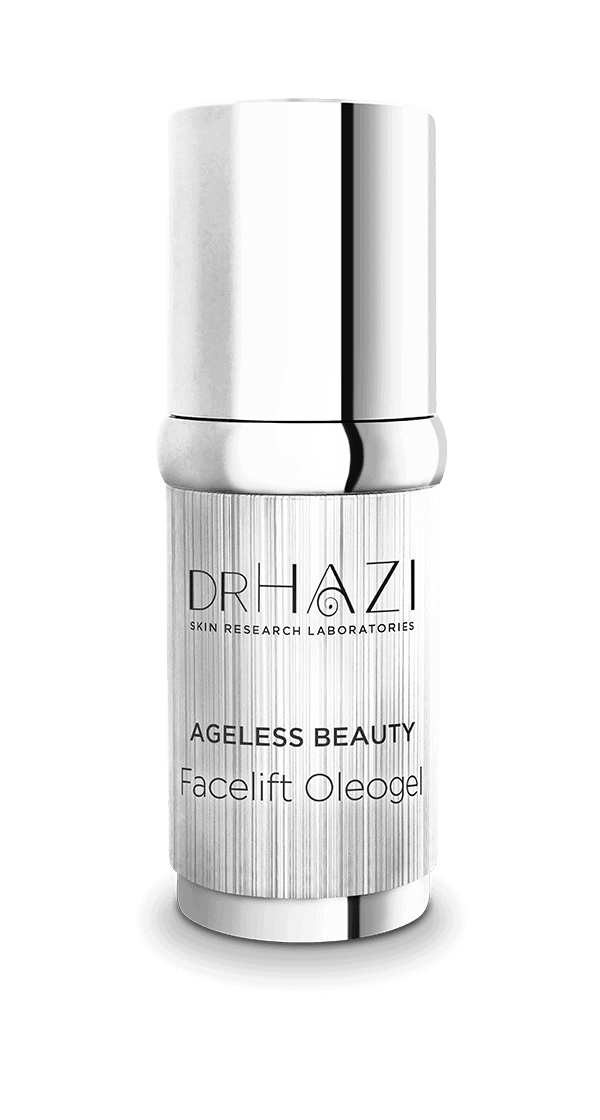 ×
Our cosmetics and skin care products are 100% natural, healthy and exceptional quality. Instead, we use valuable natural raw materials with excellent bioavailability. Therefore, our products are suitable for all skin types and are suitable by their pure natural ingredients also for vegetarians and vegans.
Through the selected DRHAZI Natural process® our products are manufactured particularly friendly and sustainable. Unlike manufactured at Industriel cosmetics and toiletries, this may mean that there are some changes in color, smell or consistency of the products. This is a natural process through the use of natural ingredients - opened products should be consumed about three months after opening.

Sustainability, also in product design:
Through our low-oxygen filling and a carefully selected package of conservation effort is kept very low. All contents are filled into pre-sterilized container quality and, thus are DRHAZI products free from germs, chemicals and synthetic preservatives. The "airless system", that is, the separation of packaged goods and ambient air, also ensures a germ-free and oxygen-protected storage - prior to first use it is necessary to pump the care product.
Storage & shelf life:
To ensure the consistency of natural products as well as a good application use, cosmetics and toiletries DRHAZI from excessively high temperatures or cold should be protected. Optimal storage is ensured at a temperature of 15-20 degrees.
Further information:
Inform yourself about the effect instance and preservation of produce, as well as the synthetic active ingredients and toxins in conventional cosmetics here.
DRHAZI BLOG
Ingredients:
Organic Macadamia seed oil
Organic Jojoba oil
Triglycerid
Organic Argan oil
Organic Babassu oil
Bio Rosehip seed oil
Bio Pomegranate seed oil
Organic Rice bran oil
Acmella extract
Gotu kola extract
Organic Green tea leaf extract
Rose of Jerico extract
CoQ10
Retinol - Vitamin A
Vitamin C palmitate
Vitamin E
Rose oil
Organic Palmarosa oil
Rosewood oil
Organic Totarol
geraniol
farnesol
hydroxicitronellal
Spilanthol, the active isolated from Acmella oleracea, is a fast-working myorelaxant. Although its action mechanism is not yet known, Spilanthol has shown a fast-working and progressive myorelaxant ability, even at low concentrations.
Pomegranate oil is a super-anti-oxidant with astringent and anti-bacterial and inflammatory properties. It is a great addition to the skincare world for its ability to fight free-radicals and thus the signs of aging. It has also been found to hydrate skin when applies topically.
Composed of many powerful antioxidant such as Retinol or vitamin A which help delay the effects of skin aging and also assists with cell regeneration; and promotes collagen and elastin levels to increase. Linoleic acid or Omega 6 oil, Oleic acid or Omega 9 fatty acid, Lycopene, Beta-carotene, pro-vitamin A and Vitamin C all of these and more have remarkable skin rejuvenating properties which are very effective against skin pigmentation and aging wrinkles especially formed from sun damage.
Antioxidant actions that neutralize free radicals, assists in the production of Adenosine Triphosphate (ATP) to optimize energy components of the cell, significantly reduces wrinkles.
They are naturally occurring components of organic essential oils. They cannot be separated from the essential oils, and are not added to the formula separately.
They are naturally occurring components of organic essential oils. They cannot be separated from the essential oils, and are not added to the formula separately.
Antioxidant, improves collagen content, renews collagen related to weakened connective tissues, prevents scar tissue formation by slowing down excessive collagen production at wound sites, stimulates circulation and the oxygenation of skin tissues.
They are naturally occurring components of organic essential oils. They cannot be separated from the essential oils, and are not added to the formula separately.
Argan Oil comes from the seeds of the Argan tree, endemic to south-western Morocco. The oil, known worldwide for its health & cosmetic benefits, provides healing, moisturizing, regeneration, and anti-inflammatory agents. The oil is extremely beneficial for hair care and provides remarkable shine to dull hair restores damaged hair and can prevent split ends.
It instantly melts and creates a soft, silky feel, excellent spreads and pulls (like coconut oil) rapidly, but not deep into the skin.
Green Tea extract contains a unique cocktail of powerful antioxidants called catechins, which help fight damage caused by free radicals. Its anti-inflammatory properties in some cases can even neutralize the damage done by exposure sun. Moreover, green tea extract has qualities that can rejuvenate old skin cells, promote skin regeneration, and even wound healing. It's known for treating skin problems including treatment of aphthous ulcers, psoriasis, rosacea, and actinic keratosis.
It is very gentle and so it suits all types of skin even the most sensitive. It can effectively penetrate the skin easily to improve flexibility and elasticity. Jojoba Oil few of many qualities for skin are reducing wrinklesand lightening skin marks, scars and stretch marks. For actual skin ailments such as acne, inflammation of the skin, Jojoba oil is very useful because it balances properties of the skin and moisturizes it naturally with its sebum oil which is identical to sebum oil produced by human skin.
Oil which comes from the pressing of several varieties of Macadamia nuts. Contains antioxidants, phytochemicals, protein, vitamins and beneficial fatty acids. Used as an emollient in skin and hair. Smoothes, hydrates and restores.
Balances hydration levels and moisturizes the skin, helping to prevent wrinkles. Keeps skin elastic and supple by stimulating cell regeneration and rejuvenation. Also balances production of sebum while aiding with broken veins, acne, dermatitis and prevents scar formation.
The rice oil interests oil composition, combines phytosterols, carotenoids, ferolic acid in the oryzanol. Exceptionally good anti-oxidant and regenerating. Well penetrates the skin.
Provides preservative actions while acting as a gentle and non-irritating anti-bacterial ingredient in both gram positive and negative bacteria (proprionumbacterium acne is particularly sensitive to this extract), anti-viral, antioxidant, effectively reduces acne disturbances. 

Retinyl palmitate (vitamin A) is the normal form used for application on the skin and has great anti-ageing, superb anti-oxidant and moisturizing capabilities. It accelerates cell renewal and stimulates the fibroblast and collagen in the skin, thereby reducing wrinkles and fine lines. Due to its anti-oxidant properties, it is also a great anti-aging ingredient, and helps promote a softer smoother skin.
Skin protective agent against UV radiation included.
An essential oil that heals and prevents viral infections, it is excellent for damaged skin of any skin type. The water binding capacity rose improve skin hydration. Regeneration and skin elasticity
Rosewood oil is a superior cell stimulant and tissue generator, causing rejuvenation of the skin.
Exceptional low-viscosity emollient, lubricant. It leaving a soft, non-greasy feel, improves spreading of creams & lotions.
Oil soluble and stable Vitamin C, antioxidant, strengthens collagen, assists in brightening, provide's anti-wrinkle effects / smoothes skin texture, heals wounds, and prevents scarring. 17%
Because of its ability to quench free radicals the term "protector" has been used to describe the actions of vitamin E. Studies have shown that vitamin E reduces UV-induced erythema, edema, sunburn cell formation, and lipid peroxidation. Clinical improvement in the visible signs of skin aging has been documented with significant decrease in skin wrinkling. This may be also due to the excellent moisturizing effect of vitamin E.
Quality
Truly natural and/or organic cosmetics, meet ECOCERT Organic and Nature of requirements.
We use solvent and pollution-free, cold-pressed vegetable oils
Free from synthetic fragrances,

colors

and preservatives
Free from mineral oils, parabens, silicone and PEG's

Dermatologically tested for

compatibility

Recovered

raw materials

,

whenever possible

from

controlled-

organic farming

and

under fair conditions
Write a review on this product!
hightech natural skin therapy
Made with certified ingredients
Rating:
1 Based on reviews
Buy the full care line, with our Gift!
The effect of the natural cosmetics built on each other in the care steps.
which belongs to the following care line
AGELESS BEAUTY FACELIFT SELECTION
Reviews about the product
Annie (45)
From the range of products I have used so far, the Ageless Beauty Toning Milk and Facelift Oleogel are my favorites. They hydrate my facial skin for the whole day, without ever feeling like it's dry or exhausted. The tonings have worked out great for me and if possible, I use them during the day to refresh my facial skin.
×
Write a review on this product!
AGELESS BEAUTY FACELIFT OLEOGEL