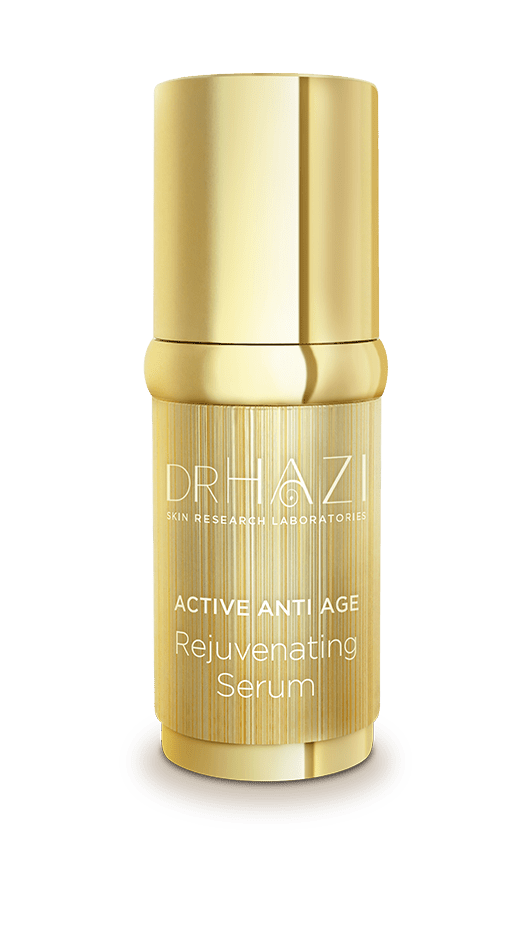 Hightech 100%
Natural 100%
×
Our cosmetics and skin care products are 100% natural, healthy and exceptional quality. Instead, we use valuable natural raw materials with excellent bioavailability. Therefore, our products are suitable for all skin types and are suitable by their pure natural ingredients also for vegetarians and vegans.
Through the selected DRHAZI Natural process® our products are manufactured particularly friendly and sustainable. Unlike manufactured at Industriel cosmetics and toiletries, this may mean that there are some changes in color, smell or consistency of the products. This is a natural process through the use of natural ingredients - opened products should be consumed about three months after opening.

Sustainability, also in product design:
Through our low-oxygen filling and a carefully selected package of conservation effort is kept very low. All contents are filled into pre-sterilized container quality and, thus are DRHAZI products free from germs, chemicals and synthetic preservatives. The "airless system", that is, the separation of packaged goods and ambient air, also ensures a germ-free and oxygen-protected storage - prior to first use it is necessary to pump the care product.
Storage & shelf life:
To ensure the consistency of natural products as well as a good application use, cosmetics and toiletries DRHAZI from excessively high temperatures or cold should be protected. Optimal storage is ensured at a temperature of 15-20 degrees.
Further information:
Inform yourself about the effect instance and preservation of produce, as well as the synthetic active ingredients and toxins in conventional cosmetics here.
DRHAZI BLOG
Ingredients:
DRHAZI Mimic muscle relaxing peptide complex
DNA protective and regenerating peptide complex
Liposome Complex
Panthenol
Collagen protein
Sorbit
Ceramid complex
Urea
Bisabolol
Allantoin
Organic Totarol
Lactic acid
Allantoin (Comfrey Root) is a natural ingredient found in a wide variety of cosmetic products. It is an extract from the comfrey plant. This ingredient is widely known for its hydrating abilities and exfoliating properties. It is known to be an anti-irritant and even to protect and promote healing.
Bisabolol is a naturally occurring active ingredient that accelerates the healing process of skin and protects it from the effects of daily stress. Known to have anti-irritant and anti-inflammatory properties, a-bisabolol has been shown to reduce UV-induced erythema in-vivo.
Vegetable-derived lipid concentrate shown to alter protective barrier function of the skin and scalp protection. Consists of a multi-lamellar system with ceramides, cholesterol, free fatty acids & phytosphingosine that resembles the structure of the lipid barrier the skin. Shown to incorporate ceramides (skin-identical lipids) into skin and can thereby restore barrier function of skin. Deeply moisturizes skin and increases bioavailability of ceramide VI by more than 38 %.
Collagen is an important protein which is part of the connective tissue and is the cement that holds everything together-the primary mortar between the bricks of all of our smooth muscle tissues such as blood vessels, digestive tract, heart, gallbladder, kidneys and bladder, to mention just a few. Using face creams with Collagen will increase moisture contents of the skin and will stimulate skin cells to produce collagen and can partly reverse aging process. Stimulating collagen synthesis in aged skin was shown to reduce wrinkles and improve skin texture.
DRHAZI Peptides for cell rejuvenation - ONLY IN PERFECT SERIE! Juveleven® (Acetyl Hexapeptide-51 amide) is specifically designed to enhance the natural mechanisms to diminish the DNA damage that several factors produce along with the years(UV exposure, radiation, stress, DNA replication, diet…),protecting genomic integrity. As a result, it is ideal to incorporate into facial and body formulations to enhance cellular protection(from pollution and environment),photoprotection (sun care),stress resistance, cellular longevity and vitality(rejuvenating),as well as global anti-aging treatments and the products especially designed for outdoors sports(environmental protection). Chronoline® (Caprooyl Tetrapeptide-3) stimulates laminin and fibronectin, thus firmly anchors cells to the matrix for optimal cell function and maintenance of DEJ integrity. timulates both collagen VII and laminin-5 to reinforce the normal structure of the DEJ, preventing the flattening that occurs with aging. (DEJ:Dermis-Epidermis junction)
As an alternative to local injections, this molecular peptide achieves the same, relaxing the muscles responsible for the formation of expression lines. Similar to botulinum toxin but safer and smoother, this anti-wrinkle peptide complex is effective in reducing the amount and length of wrinkles. Argirelin® (Acetyl Hexapeptide-8) A neuropeptide derived from natural proteins that is proven to reduce – up to 30% - the depth of the wrinkles in the face caused by the contraction of the muscles of facial expression, especially around the eyes, forehead and mouth region. This 6 amino acid chain works by inhibiting the release of neurotransmitters which relax facial muscle contractions without paralyzing facial muscles. Syn-ake® (Dipeptide Diaminobutyroyl Benzylamide Diacetate) An effective peptide ingredient found in the venom of the temple viper. SYN®-AKE is a small biotechnic peptide that helps reduce the appearance of wrinkles and laughter lines – fast. SYN®-AKE enables the face to relax, reducing wrinkles but without losing the ability to help people express themselves. It's fast acting, long lasting and fully reversible. New studies have now confirmed that when used earlier in time, SYN®-AKE helps delaying the appearance of wrinkles, with age-freezing effects. Leuphasyl® (Pentapeptide-18)- Leuphasyl is an active synthesis peptide, having botox-like action. It is absolutely free from side effects and it confers an aspect of wrinkles' attenuation, also preserving facial expressivity. With 3 different mechanisms of action, the 3 types of peptides synergistically enhance their effects, providing an intense and natural alternative to Botox anti-wrinkle.
It is most widely used in cosmetics for its ability to help the skin absorb the cosmetics and moisturizers better. It is also widely used for its ability to accelerate the skins natural shedding process as an Alpha hydroxyl acid. In doing this it promotes the healthiest skin making your skins appearance brighter and younger looking.
It is a semi-solid liposome gel which can be loaded by a simple action with drugs. The liposomes are multi-lamellar and have a particle size of approximately 200 nm. It provides for an excellent transport system for active substances is, on the other it merges after release of the drug with the skin lipids and thus reintegrated into the skin's metabolism.
Provides preservative actions while acting as a gentle and non-irritating anti-bacterial ingredient in both gram positive and negative bacteria (proprionumbacterium acne is particularly sensitive to this extract), anti-viral, antioxidant, effectively reduces acne disturbances. 

Pantothenic acid, also known as vitamin B5, as well as the "anti-stress vitamin" is part of the B group vitamins and classified as a water-soluble vitamin. Moreover, Panthenol can promote epithelization thereby enhancing the regeneration of the skin. Panthenol soothes, softens and moisturizes the skin, reducing the appearance of fine lines and wrinkles.
In cosmetics, sorbitol acts as a humectant and moisturizer.
Located in a part of the natural component of the epidermis (1%) of the skin where moisture becomes bound. It contributes to skin elasticity and flexibility. Urea is widely used in skincare because of its hydrating properties. It is also a great and widely used preservative in cosmetics. It has been found to prevent sun radiation from aging the skin.
Quality
Truly natural and/or organic cosmetics, meet ECOCERT Organic and Nature of requirements.
We use solvent and pollution-free, cold-pressed vegetable oils
Free from synthetic fragrances,

colors

and preservatives
Free from mineral oils, parabens, silicone and PEG's

Dermatologically tested for

compatibility

Recovered

raw materials

,

whenever possible

from

controlled-

organic farming

and

under fair conditions
Write a review on this product!
hightech natural skin therapy
Made with certified ingredients
Rating:
1 Based on reviews
Buy the full care line, with our Gift!
The effect of the natural cosmetics built on each other in the care steps.
which belongs to the following care line
Reviews about the product
Cristie (43)
My favorite of the Anti Age products is the Rejuvenating Serum. After using the product, my skin feels more boosted, tighter and younger. I love its delicious scent, which provides me with a sense of purity. It has an immediate, visible effect.
×
Write a review on this product!
Active Anti Age Rejuvenating Serum