The wonder of beauty
Healthily radiant, lovely facial skin with natural methods
Beauty care is old as the history of mankind itself, yet still beauty care trends are rapidly changing and developing. Nowadays, a growing number of women require beauty enhancing methods that also boost their health.
The formation of wrinkles – the crepe-like crosshatch lines under the eye, crow's feet, frown lines and creases around the mouth – are a result of various biological, hereditary and behavioural influences. And while some lines add character, others might appear earlier than expected or seem too severe, robbing the face of its vitality.
Not all wrinkles are created equal, however. To choose the wrinkle-fighting products best suited for individual needs and concerns, it is essential to first understand the different types of wrinkles and what causes them. Here, the three most common types and how to combat them – the starting line for a lineless future.
AGE AND GRAVITY
Research shows that cells divide more slowly as you age, causing the inner layer of skin to thin and become prone to damage and folding. Skin also begins to lose its elasticity. This loss of resilience and bounce results in lines and creases, particularly around the eyes, along the fold that runs from the nose to the corners of the mouth and along the jawline and neck. Over time, the downward pull of gravity accentuates these issues, allowing lines to settle in. Products that work to support the skin's natural renewal process by promoting the production of collagen, elastin and hyaluronic acid can help combat the impact of gravity on the skin. This is excellently treated with skin and connective tissue building, regenerating peptides!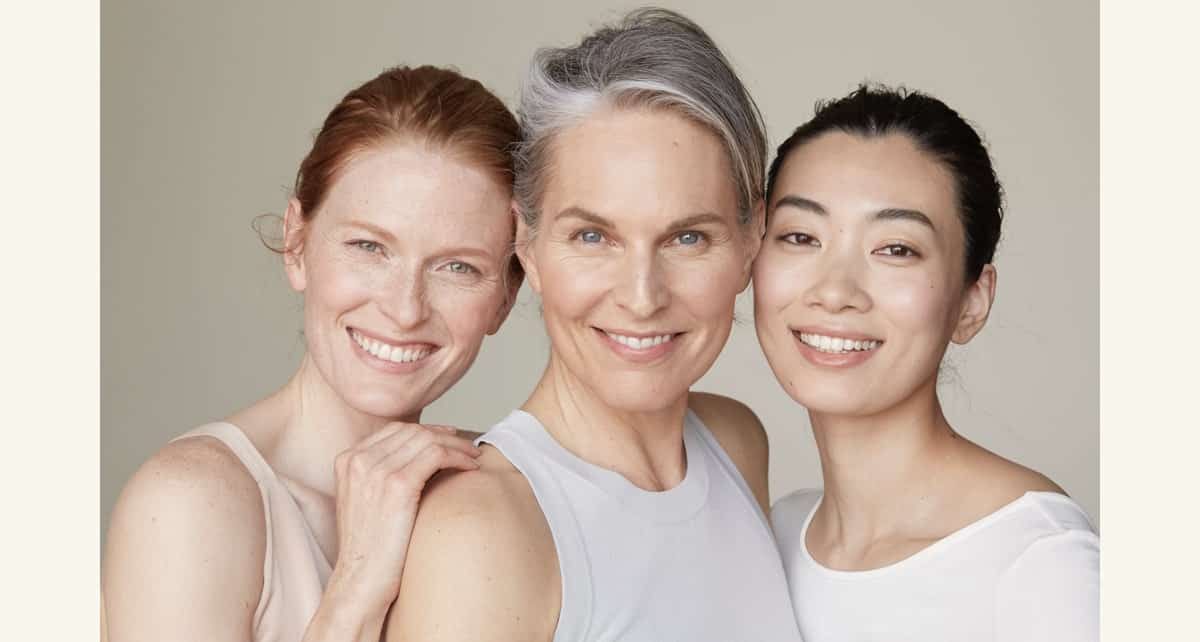 EXPRESSION LINES
Skin has a memory. Its cells track each smile, squint and frown, and with these habitual facial movements, expression lines begin to form. When facial muscular movements are repeated systematically, these lines become permanent and deepen with time. One way of guarding against expression lines is to impede facial muscle movement, but that requires dermatological procedures in a specialist's office. Another effective way is to look for products that contain peptides that help to inhibit the signalling pathways of facial muscles, relaxing the surface of the skin and smoothing out existing expression lines – no appointment required. THIS IS EXCELLENTLY TREATED BY MIMIC MUSCLE RELAXING PEPTIDES!
PHOTO-AGING
For healthier, stronger, smoother skin, it is best to limit sun exposure. It is well documented that solar radiation causes skin damage and photo-aging. In fact, scientific studies show the sun causes more than 80 percent of visible changes commonly attributed to skin aging. Overexposure breaks down the skin's underlying structure and affects its appearance, especially in sensitive, sun-prone areas like the cheeks and neck. Guarding against the sun's UVA and UVB rays – the 'aging rays' – is fundamental to skin health, as both are responsible for long-term damage, including wrinkles. Scientists have also recently learned that within the solar spectrum, longer wavelengths such as Infrared Radiation (IRA) have been shown to alter the collagen equilibrium, while decreasing the synthesis of collagen itself. Choose products that contain an SPF of 30 or more with UVA, UVB and IRA protection to stop premature aging due to sun damage. This is excellently TREATED by DNA protective and regenerating peptides!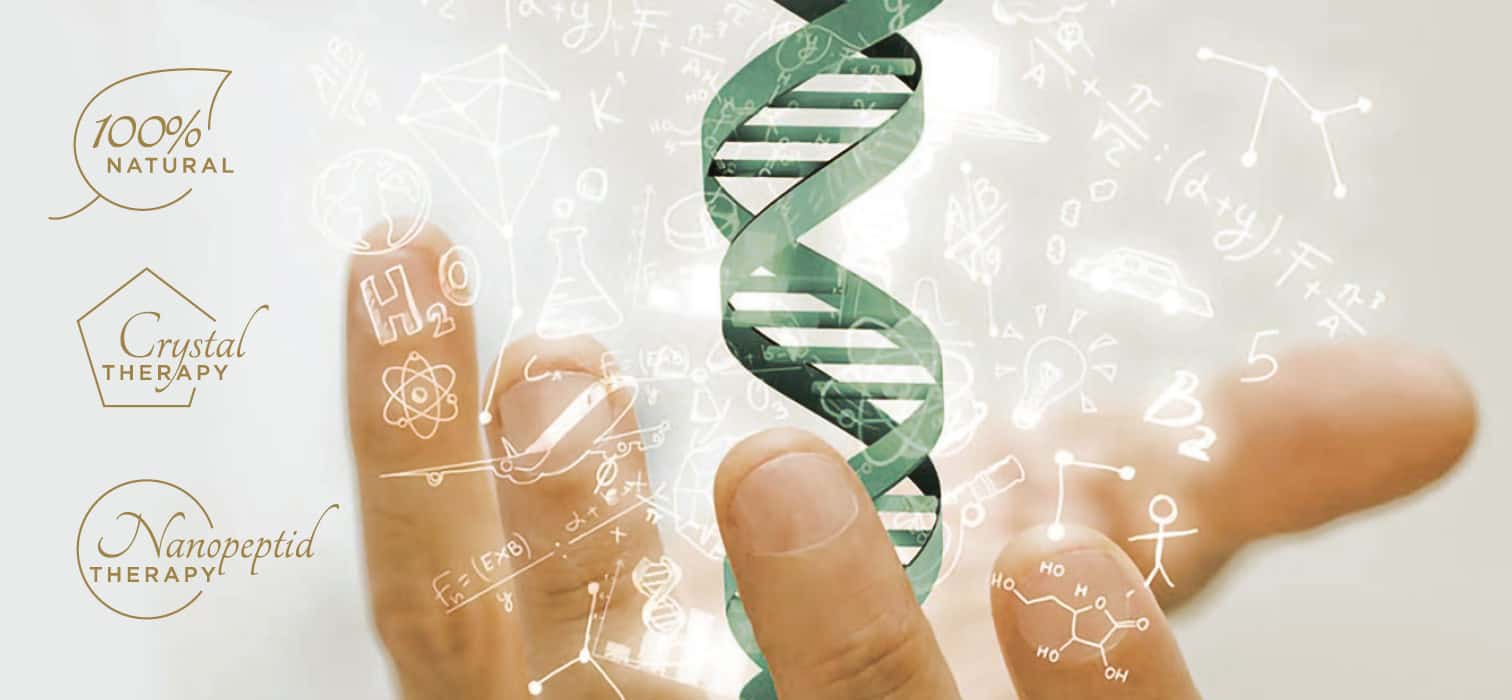 Skin, as a mirror
Thanks to our more conscious lifestyles, we no longer seek to improve our looks with "masks", but rather, we seek to enhance the beauty of our entire being. This is where holistic facial treatments can truly help.
Our high-tech, 100% natural cosmetics provide assistance in this. These products, which are based on the results and technology of modern cosmetics represent the latest generation of anti-aging products. They regenerate the skin structure, help impede the decay of flexible fibers, enhance collagen synthesis, inhibit glycation and use an organic liposome structure to pinpoint the targeting of organic high-tech active agents.
Our high-tech, 100% natural cosmetics are complex blends of the world's most precious active agents, which help make our facial skin radiantly beautiful without compromises with the purest, most professional nurturing and beautifying products.
What makes the DRHAZI hightech natural concept unique?
It provides customized, comprehensive treatment plans based on skin diagnosis, utilizing 100% natural manual therapy holistic facial treatments
Home treatments provide intensive skin renewal, which are supplemented by the treatments offered at DRHAZI salons with special manual techniques and high-tech methods
Our skin renewal method is great at normalizing acne, rosacea-inflicted skin
Holistic facial rejuvenation is based on organic DRHAZI facial reconstruction, which is complemented by connective tissue and facelift manual therapy and cellular-level skin renewal
The holistic body rejuvenation is based on carbon dioxide therapy that provides cellular-level regeneration, supplemented by connective tissue manual therapy and jade stone, medicinal oil, deep muscle treatment
The 100% natural concept, which combines herbal therapies with the latest medicosmetics active agents, offers a globally unique approach
The mission of DRHAZI hightech natural is to help everyone restore their radiantly beautiful, healthy facial skin appropriate to their biological age. Our professional, luxury services are mainly ensured with effective, cellular-level products and the expertise behind the treatments of our DRHAZI therapists.
For us, there's only one type of skin: healthy and beautiful skin!