Made by Us
You Deserve Safe, Effective Skincare
Hightech Natural in Hungary is your official authorised worldwide producer of the DRHAZI® brand.
DRHAZI® and Product Authenticity
DRHAZI® is committed to remaining true to their professional skincare heritage by providing the highest quality skincare products to you.
USE AUTHENTIC DRHAZI®!
Want to know more about originality your product is?
We etch each product closed with certificate of authenticity, when it's ready to ship to you.
This is to garantee that the bearer of this certificate has received an authentic and genuine DRHAZI Hightech Natural Cosmetic from the company on Hightech Natural certifies that the product received is accurately representes in all aspect.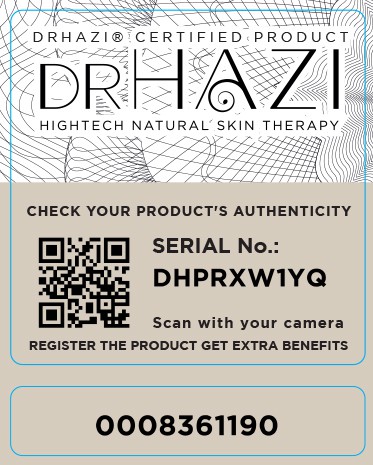 A certificate of authenticity (COA) is a small sticker on a product box. It is a special holographic seal with QR code and unique license number, on special material authenticating each DRHAZI cosmetics which and is made to demonstrate that the item is authentic, made by us with the best hightech natural ingrediens and with our unique and special manufacturing technology.
Join a myDRHAZI community and enjoy the many other valuable benefits of membership!